IEC 61850 University has completed another successful course in the Philippines! We were fortunate to have trained ~30 engineers from the largest power utilities in the Philippines, including our host utility Meralco and other utilities from the surrounding islands: Aboitiz, Visayan Electric Company, and Davao Light & Power. Not only are these the largest power utilities in the country, they also happen to be some of the largest companies in the Philippines.
We conducted the full Tier I, II, and III training courses, which is the first time we offered ALL three courses back-to-back, making it one of the most comprehensive IEC 61850 trainings we've delivered to date. These participants are now armed with the information to deploy IEC 61850 in an efficient and effective manner. We were extremely impressed with their attention span, technical competencies, and stamina to persevere through the Tier I, Tier II, and Tier III courses, which spanned across two weeks. We have full confidence these utilities are on the right path to continue their IEC 61850 journey, and was surprised to learn they already have numerous IEC 61850 deployments; including some Digital Substations. This puts them ahead of many power utilities within the developed countries, and it goes to show you cannot measure a countries innovation by their GDP, but rather their willingness to take on a challenge to adopt these types of disruptive technologies. Congratulations to Meralco, Aboitiz, Visayan Electric Company, and Davao Light & Power for leading the charge and welcome to the IEC 61850 University Alumni!
Special thank you to the Meralco Team, including Sir Redie Cullano, Sir Val Nicolas, and Sir Marc Malibiran for hosting us, as well as the rest of the attendees for the engaging discussions. Besides their appetite for innovation, we found the Filipino people to be tremendously kind and hospitable! They made our stay in Manila very comfortable, and we'll be taking home the best souvenir, which is the Pinoy hospitality and their warm-hearted nature.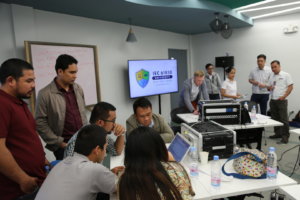 Another special thank you to our partners, Tekvel who did a great job running the hands-on workshops, which allowed participants to put the theory into practice. It was a great team effort!
For more information on IEC 61850 training and consulting services, please feel free to visit www.61850University.com and contact us to book your next IEC 61850 training.